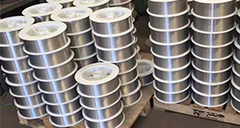 First of all, the chemical composition of nickel aluminum alloy wire is: Ni95 Al5.
Nickel aluminum alloy wire is the best primer wire for arc spraying. The nickel and aluminum elements in the alloy wire react with oxygen to increase the temperature of the flying particles, thereby achieving a higher bonding strength. Arc spraying nickel aluminum alloy wire expands the application field of arc spraying, and plays a key role in repairing shafts, protection of large-area components, repairing and strengthening of parts, decoration, etc.
In addition, the phase structure of the nickel-aluminum alloy wire is a single NI ancient solution, and the corresponding coating composition is Al2O3 and NiO. As arc spray wire, it has less dust and is suitable for arc spraying.