What are the application fields and advantages of arc spraying machine?
Arc spraying technology is an important branch of thermal spraying technology in the emerging metal surface treatment engineering.The main application areas and characteristics of the arc spray zinc spray aluminum machine: The arc spray technology is used in steel frame structures, water conservancy and hydropower projects, chemical plants, packaging and printing, wind power generation, highway bridges, decorative design iron accessories and other surfaces to spray zinc and spray aluminum to prevent corrosion Coating and repairing damage to mechanical equipment has unique advantages, Including: high production efficiency, according to the spraying thickness of 50 microns, 1 kg of zinc wire can be sprayed more than 10 square meters, and 25 kg of zinc wire can be sprayed per hour.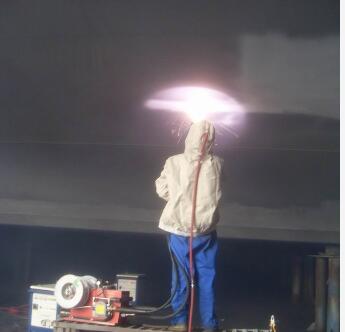 1. High combined compressive strength and excellent performance. The excellent surface properties and high combined compressive strength of the arc spray coating can meet the needs of most engineering projects
2. Low energy consumption and low cost. Arc spraying is the most sufficient method of electric energy usage in thermal spraying. Its usage rate reaches 57%, while flame spraying is only 13%, saving a lot of spraying costs.
3. The spraying quality is stable and the actual operation is convenient.
4. The safety factor is high. The arc spraying technology only uses electricity and air compression, without oxygen, acetylene gas and other combustion gases and flammable gases.
Arc spraying machine according to the spraying material can also be divided into zinc spraying machine, aluminum spraying machine, copper spraying machine and other equipment.The spraying machine provided by our company can apply multiple spraying materials.
For more information ,welcome inquiry .
sophiashen@canchunmetal.com