What are the anti-corrosion treatment methods for steel structures?
In recent years, the steel structure industry has developed rapidly and has become one of the common building structures. In addition to the factory buildings, there are also many high-rise residential industrial structures, large and medium-sized theaters, Bridges and public buildings.These projects are often corroded and rusted due to the lack of maintenance of steel plates, thus affecting their quality and causing accidents such as construction collapse.Some anti-corrosion methods of steel structure are presented for reference
1.Hot dip galvanizing method
The hot-dip galvanizing anti-corrosion technology is the most widely used technology at this stage, and it is also an economical and good anti-corrosion method.
2.Anticorrosion of paint
The cost of anticorrosion coating method is low, but the cost of outdoor maintenance is high, and the actual effect of anticorrosion is not good.
3.Arc spraying anti - corrosion method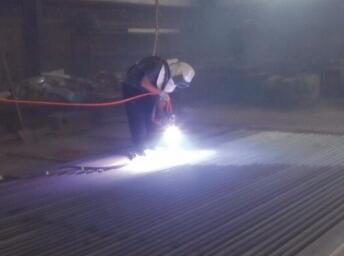 The arc spraying anti-corrosion method has high compatibility, strong adaptability to component specifications, and is not affected by its specifications, and has a long-term corrosion-resistant and wear-resistant service life.
During engineering construction, sandblasting must be carried out on the surface of steel components. Rust, expose the metal texture and roughen the surface, and then melt the spraying material(zinc wire ,aluminum wire ,Zinc aluminum alloy wire 8515 ,Nikel Aluminum alloy wire 955,NiCrTi wire PS45 nd so on) by burning the arc between the two continuous spraying wires, and spray it on the metal structure that has been blasted and rust-proofed to produce arc spray Zinc and arc sprayed aluminum coatings produce high-efficiency anti-corrosion coatings.
In addition, because of its strong adaptability, high coating efficiency, and strong anti-corrosion capabilities, arc spray system are also widely used in many industries such as electronics and electricity, mechanical manufacturing and repair, bridges, water conservancy and hydropower, and wind power.