What is the purpose of spraying base wire 955 nickel-aluminum spraying wire?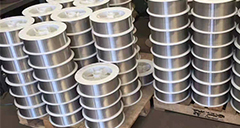 NiAl alloy wire is a widely used nickel-based alloy wire. The composition of this alloy wire, which is mainly used as arc spraying in conjunction with the underlying material, is Ni95Al5.
The bonding strength of the coating prepared by thermal spraying nickel aluminum wire Ni95Al5 can reach more than 55MPa.
It is an essential base material when spraying various shaft parts, plungers, paper dryers and preparing ceramic coatings on metal substrates.
For more information, please contact sophia shen, Mob. +8613799288404 Email, sophiashen@canchunmetal.com